Creator / Designer / Observer / Maker / 3D Designer / DJ / Producer / Wordsmith / Product Designer / UX/UI Designer / Marketer / Digital Artist / Front-end Developer / Photographer / Retoucher / Growth Hacker / Writer / Interior Designer / Generalist / Specialist / Entrepreneur / Architect / Mechanic / Gardener / Speaker / Animator / Branding Specialist / Salesman / Aviation nut / Mechanical Designer / Fashion lover / Structural Designer / Traveler / Automotive enthusiast / Data scientist / Researcher / Strategist / Teacher / Dad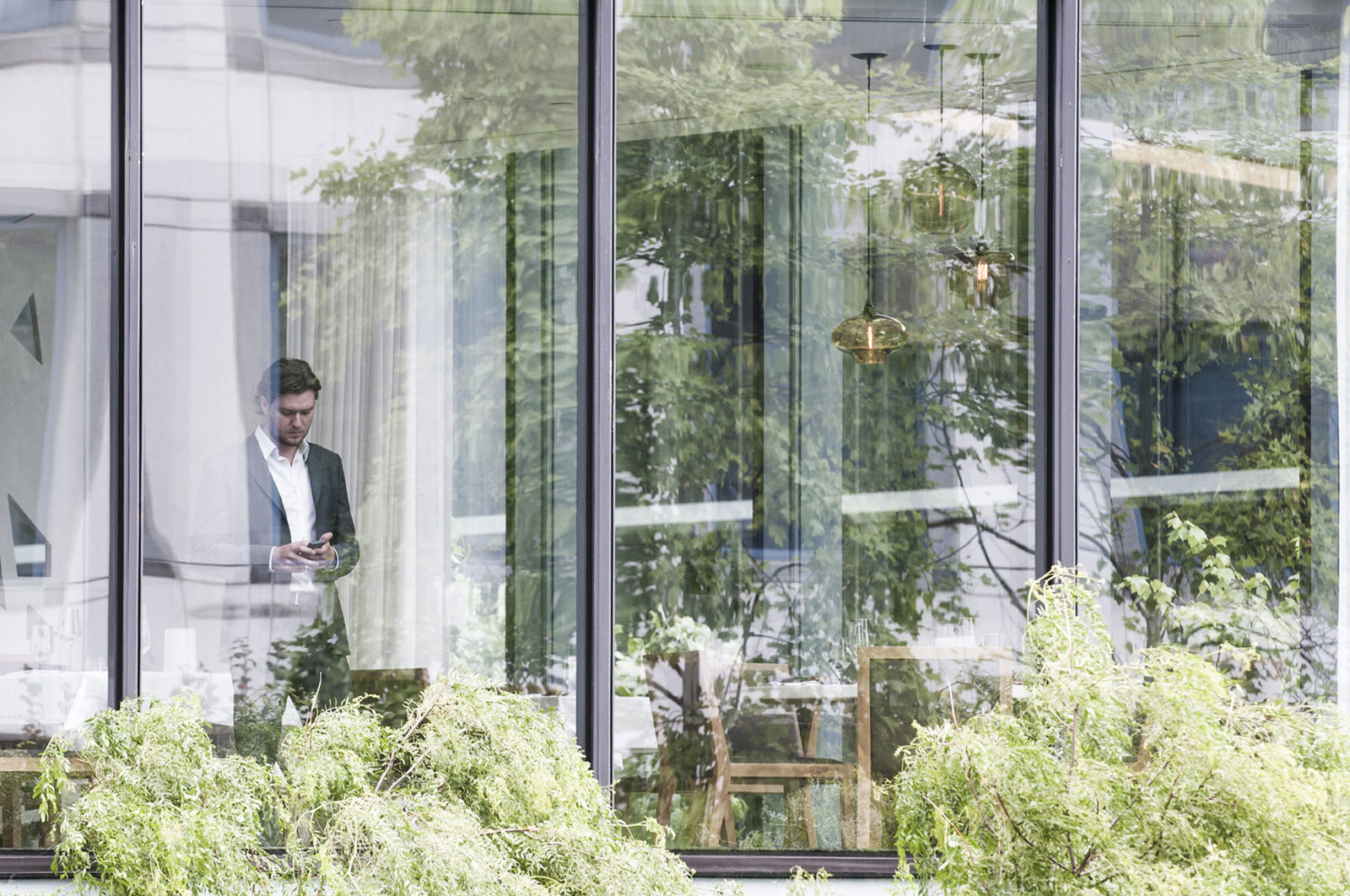 My work has been studied by neuroscientists in Germany, featured in design books from Singapore, and taught in Canadian universities, and in general, is used by millions of people on daily basis.
Things that interest me the most at the moment are: technologies of the future, internet (IoT), real estate (development, marketing, architecture/design), space exploration, 3D printing, automotive and aeronautics industries, education. Always looking to collaborate with like-minded people.
Résumé
Threefifty – Founder & Creative Director
April 2006 – Present
Threefifty is my design studio, and where I spent most of my professional career. Over the years, I've put together an amazing team of professionals; together we've worked on hundreds of projects for worldwide firms of varying sizes, and in the process created a few of our own.
Inception of this company is what helped shape my entrepreneurial spirit, along with all of the exciting things that come with it.
Some of my favorite day-to-day tasks included:
Account and Team management
Project and Product Management
Sales + development of sales materials
Business processes development
Research/Planning/Testing
Branding/Identity/Traditional marketing
Social marketing
Campaign management
Community management
Graphic design (various styles)
Technical illustration
Packaging design
Sound design
Art direction
UX/UI/High conversion web design
Front-end development (XHTML/CSS)
Mobile design/development
eCommerce
Organic SEO
Conversion optimization
Analytics
Photography
Post-production
3D/Motion graphics
QA
Writing
---
Autodesk – Design & Growth Lead
July 2015 – Present | San Francisco, California
I've been asked to grow the most used online 3D design and 3D printing app, Tinkercad. Ultimately, the app aims to redefine how future generations think​, giving them a creator's/designer's view of the world. Many schools – from the most distant corners of province Yunnan, China, to the Bay Area's most notable educational institutions – are altering their outdated curriculum to include 3D design, and electronics education to inspire future generations, with Tinkercad being at the forefront.
I was asked to apply my generalist approach to growing and bettering the app, and most importantly its community, making it more approachable, more useful, and more engaging.
Reinvented the brand and redesigned the website, which resulted in nearly 20% increase in user engagement – from 70% to nearly 85%!
Established strategies and workflows for growth. These campaigns brought it hudreds of thousands user registrations.
Proposed new app functionality, and improved the existing app tools for best user experience.
Re-worked the entire COPPA (under 13) registration/management workflow. Introduction of this workflow was one of the major driving growth factors as it affected all the schools.
Designed and future-proofed community functionality.
Turned administration of the community into a useful and pleasant experience.
Assisted with creation of various promo resources (online/print/physical).
Helped to improve registration conversion rate from several hundred users per day, to over 8,500.
Userbase went up from several hundred thousand to over five million (in under two years) – with a modest year-end goal of over 15 million.
Above all, this growth happened with minimal changes to the website due to little development resources available.
All decisions were made based on data, which I interpreted and acted upon, too.
---
Microsoft – Analytics Product Design Consultant
September 2016 – December 2016 | San Francisco, California
I love design. I love design that's backed by data even more. I find myself constantly interacting with various analytics products, and over the years have come to some firm beliefs and expectations, which many of the analytics products lack. This was a fantastic opportunity for me to put some of my thinking to use in a real life example.
I was asked by team Xamarin (who were acquired by Microsoft in order to help with mobile growth) to re-imagine how users interact with mobile analytics, and to help with integration of these ideas into the existing design framework for the Microsoft's Visual Studio's (Mobile Center) 30M+ user base. Take a look by setting up a free account over at www.visualstudio.com/vs/mobile-center.
---
Autodesk – Senior Experience/Product Designer
March 2013 – July 2015 | San Francisco, California
Normally you wouldn't associate Autodesk Inc. with term "consumer", which is the reason why the ACG (Autodesk Consumer Group) initiative heavily focused on bridging the gap between prosumers and consumers.
Shortlisted from 70+ applications, and working alongside some of the brightest minds at [the famous] Pier 9, I've been helping Autodesk spearhead the 3D printing & MAKER movement. And even though I was brought on board for a specific role (on a specific project), I was able to contribute to other projects, while working with several departments at any given time. Some notable highlights:
Developed more consumer oriented brand. Refined the language.
Evangelized and assisted in a major multi-property move to Drupal.
Made web properties more available/accessible by building and optimizing for mobile.
Coded hundreds of templates and designed/future-proofed varying complexity workflows.
Collected and utilized data to improve marketing of products, services and partner pages.
Was instrumental in creation and management of multiple Autodesk communities.
Was appointed as the go-to designer for partners like: MakerBot, Dremel, Cricut, etc.
Took initiative to design/create showcase projects to drive traffic and build recognition.
Suggested ways to improve sales and partner relations; came up with sales collateral.
Re-imagined how ideas are presented internally; this inspired more people and resulted in better adoption of uncommon thinking...
Some of the projects I was involved in included: 123D Design, 123D Catch, Project Ignite, Tinkercad, Spark, Ember 3D printer, Homestyler, Seek, 123D Circuits, 123D Make, Meshmixer, 123D Sculpt +, Tinkerplay.
Tasks included:
Research/Planning/Testing
Branding/Marketing
Design and iteration of physical projects
High conversion web design
Graphic design
Illustration
Animation
Search engine-optimization
Community management
3D printing
Laser cutting
UX/UI
Music production
---
Gbox – Design Lead
August 2013 – November 2013 | Menlo Park, California
Joined the team as the first UX/UI/Visual/Product designer, where I've outlined the foundation for design and experience of several key products, along with the overall brand and voice. Some of the thinking and design still live on to this day.
Some of my responsibilities included:
UX/UI
Content architecture
Concepting
Branding
Marketing
---
AOL – Front-end & Mobile Concept Designer
May 2013 – August 2013 | San Francisco, California
I was brought in as a lead concept designer on a 'tight deadline' project which involved usability and visual improvements of moviefone.com - AOL's flagship movie resource website. Moviefone.com is one of the oldest online movie brands in America.
Some of my responsibilities included:
Content architecture
Concepting
Branding
App design
Desktop website re-design
UX/UI (for a 'secret' social app that would further strengthen AOL's position as one of the most prominent industry leaders)
---
Real Page Maker – Senior Designer
May 2005 - August 2006 | Edmonton, Alberta
RPM was my first experience working with a 'start-up'. Their product offerings were focused on real estate industry, and enabled Realtors (and realties) to set up 'online offices', which they could in turn use to market real estate to interested parties. Due to the infancy of the company, I had to 'wear many hats' while keeping up with the fast-paced work environment. This is also where my love for real estate was born.
Day-to-day tasks included:
Marketing
Branding/Identity
Graphic Design
Illustration
Print collateral
Trade show presentation design
Animation/3D
---
A-Channel – TV News/Sports Editor
October 2003 - February 2004 | Edmonton, Alberta
After being noticed for my proficiency and passion towards video (filming, editing, etc.) during my college years, I was presented with a unique opportunity to work for A-Channel – the top TV station in the city. Once there, I've collaborated with directors, producers, reporters and cameramen, to create many captivating top news and sports stories.
The quality and style of my editing quickly caught on around the station, and eventually I was appointed as a lead editor to concept a new TV segment for newscasts. The first installment was a great success for the station, and has resulted in production of subsequent episodes.
Some of my duties included:
Direction and concepting
Sound recording/design
Deck-to-deck (linear) editing
Footage archival
---
Media-Masters Creative Communications Inc. – Designer
August 2003 - November 2004 | Edmonton, Alberta
Media-Masters Creative Communications Inc. was my first experience working in a digital shop environment, and an inspiration for the future to start my own studio. The company was small enough for me to be able to freely move between roles on daily basis: from designer, to marketer, to account manager, and so on...
This position not only grew me as a designer, it also taught me many important lessons on client relations and on how to be a good manager.
Day-to-day tasks:
Client relations
Web design
Graphic design
Branding
Production for print
Animation (Flash/After Effects)
Packaging design
HTML/CSS
Photography and retouching
Illustration
3D
---
Education
Northern Alberta Institute of Technology
2003 - 2004 – graduated with honors (and a diploma) | Edmonton, Alberta
---
Select proficiencies
Microsoft Office apps
Photoshop
Illustrator
InDesign
Dreamweaver
Lightroom
LightWave
After Effects
123D apps
Tinkercad
FL Studio
Google Analytics
Mixpanel
---
Some of my favorite hobbies
General design and creation of things
Aviation/aeronautics
Autos
Boats
Space
Architecture
Scale models
RC stuff
Photography
Music (production/DJ'ing)
Biking (street/downhill)
Nature & Outdoors
Plant collecting
Learning
Parenting
PC gaming
3D printing/prototyping
Drawing
Model-making
Woodworking
Laser cutting
Crafting
Fashion
Psychology