San Carlos Auto Performance shop photography
…Because I refused to use any kind of stock photography while creating a website for my friend's shop, I decided it would be much more personable to actually see what the shop looks like, which in turn would increase the chance of potential customers getting in touch. This is how this photoset was born.
The said website required some kind of an "entrance" shot. Something that would greet users in a positive light, and at the same time sum up what the shop was all about – all in a single image, in case the user chooses to do no scrolling. I could have used the first room customers are used to seeing – the customer lounge – but I though I'd get right to business without sugarcoating.
I chose to shoot everything at night. This allowed me to focus on what happens inside the shop, rather than distract the user with the unnecessary detail that the daylight would bring out. The lights shine more clearly and the colors are more vivid in their appearance. Another slight, but important detail of post-production was to make the cars stand ever so slightly from their surrounding, after all, it's all about cars!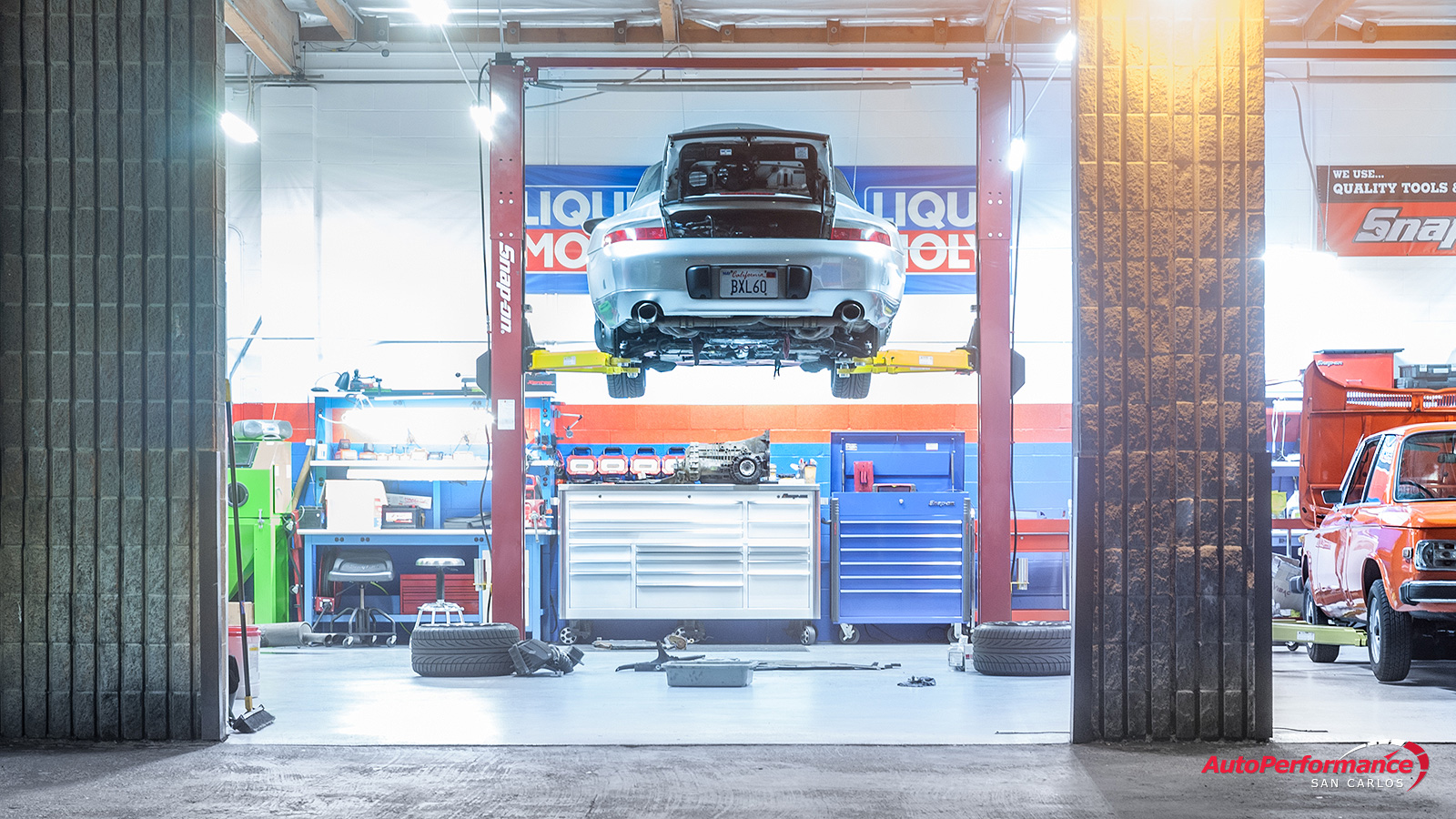 One aspect I wanted to really focus users' attention on is the cleanliness of the building – and for a good reason – this is the first thing customers notice and rave about in their 5-star reviews of the shop, saying that you can literally eat off the floor.
Playing around with contrast allowed me to portray just that. This also helped with content presentation on the website itself – there was a clear distinction between the copy and the graphics without any hard separations. Each section of this single-page website would smoothly flow into the next one, creating for a pleasant discovery experience. Things didn't look busy, which was the main goal.
The night I shot the shop I was able to catch some beautiful cars, which further reinforced the competence of this business: a convertible Porsche 911, a finely restored BMW 2002, and some more rare machines such as the Mercedes 190E 2.3 16v and a lesser known Pontiac Montana Thunder edition, which was undergoing a "heart transplant".
No flash photography was used for this set, just the overhead lights, which, I'm not going to lie, created for a great, evenly spread light.
Another benefit of shooting later in the day was the fact that I could use longer exposures, adding a sense of motion to otherwise still environment.
Be sure to visit the website to see some of these photos in-action. www.sancarlosautoperformance.com
…And the exterior, where I've also advised on some visual improvements to the building itself.